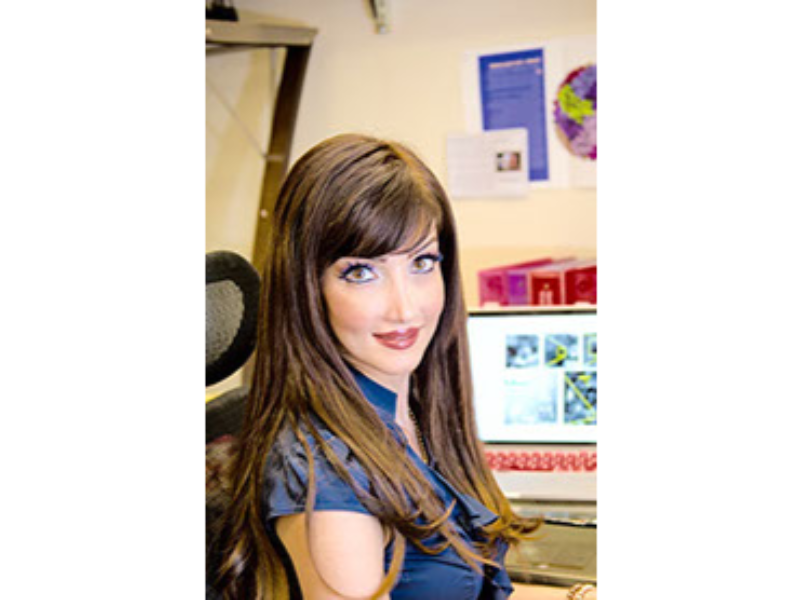 Tolou Shokuhfar
Dr. Tolou Shokuhfar, Director of In-Situ Nanomedicine Laboratory, research focuses on (1) in-situ liquid electron microscopy of biomolecules and biomaterials and their biochemical activities in wet/hydrated environment for diagnostic of human diseases; (2) smart and multifunctional nanobiomaterials that have applications in orthopedics, dental, diabetes and Islet transplantation research and contributes to this research as a team member at The Chicago Diabetes Project.
She has received  the prestigious 2014 NSF CAREER Award, to Investigate Biomineralization in Healthy and Dysfunctional Ferritin proteins(Read More).
The Faculty Early Career Development (CAREER) Program offers the National Science Foundation's most prestigious awards in support of junior faculty who exemplify the role of teacher-scholars through outstanding research, excellent education and the integration of education and research within the context of the mission of their organizations.
Dr. Shokuhfar is being named a recipient of the "2016 TMS FMD Young Leaders Professional Development Award" from The Minerals, Metals & Materials Society (TMS). She will be honored during a formal presentation on Feb. 15, 2016, during the 145th TMS Annual Meeting in Nashville. The Annual Meeting brings together more than 4,000 business leaders, engineers, scientists, and other professionals and students from around the world in the minerals, metals, and materials fields. The Young Leaders Professional Development Award was created to enhance the professional development of dynamic young people and promote networking, technical exchange, and camaraderie leading to collaborations, innovation, and solutions in the workplace and in society.TMS is one of the oldest materials-related professional organizations. Its work encompasses the entire range of minerals, metals, and materials science and engineering, from minerals processing and primary metals production to basic research and the advanced applications of materials. Its members number nearly 13,000, live in 94 countries on six continents, and include engineers, scientists, researchers, educators, administrators and students.
Dr. Shokuhfar has received the 2014 "Young Scientist Award" at the DSL International Conference for her work on "Multifunctional Nanostructures for Medical Implants".  She has graduated 1 PhD student, currently advising 1 post-doc, 1 research scholar, 6 PhD students, and 3 master students. She is also actively involved in the Society of Women Engineers (SWE) and as part of the teaching, training and outreach activities, she will be giving special attention in recruiting and mentoring female and underrepresented students to work in her research lab. As a result of her activities to promote diversity in her lab and attract female students to pursue careers in STEM fields she has received  the national recognition of  "INSIGHT Diversity 2015 Award for Inspiring Women in STEM".
She has 2 patent applications and 46 archival publications including 2 book chapters. She has been quite active in the professional community. She has been ad hoc reviewer for more than 10 journals, presented 21 national and international invited talks, and 43 conference presentations. She is the Organizer of "Advanced Materials in Dental and Orthopedic Applications" Symposium at the TMS conference, and Symposium Organizer for "Biomedical Implants and Devices" at DSL 2015  and 2016 International Conference. She currently holds 3 officer positions as Program Chair for Orthopedic Biomaterials, and Treasurer for Nanomaterials at the Society for Biomaterials (SFB), and Treasurer at the TMS Biomaterials Committee. She is also an active member of Orthopedic Research Society (ORS) and member at the Biomedical Engineering Society.
Her 3D bioprinting research featured as the top story on May 12th on Science 360, a science news website published daily by the National Science Foundation.